How Can I Find the Best Knee Pain Relief in Midtown Manhattan?
Who Provides The Best Knee Pain Relief In Midtown Manhattan?
If you're looking for the best knee pain relief near midtown manhattan, then this state of the art pain clinic will help you. It houses a team of board certified pain management specialists who use the latest minimally invasive treatment options. Click HERE to book an appointment with an expert pain doctor and explore the latest non-invasive treatment plans.
In addition to exploring the latest non-invasive treatment options for knee pain, the following topics will be covered: –
What are the causes of knee pain?
What are the symptoms of a knee problem?
How is knee pain diagnosed?
How much does treatment cost?
What are the home remedies for knee pain?
The knee joint is an important joint. It helps us to bear our weight and move in relation to the thigh bone. However, the joint of the knee can be prone to knee injury as well as underlying health conditions. Many orthopedic surgeons can be too quick to suggest surgery and narcotics for diagnosing and treating knee pain. Knee surgery is risky and in some instances, it is not even necessary. That's why it's highly recommended you explore the latest treatment choices with a board certified pain doctor in midtown west manhattan. Regardless of whether you have chronic pain or have sustained an acute injury, these pain doctors will help you get back on your feet.
Some of the best options for knee pain relief near midtown manhattan include: –
Steroid injections –  a leading pain doctor can provide instant knee pain relief by injecting the knee joint capsule with steroid medicine. This reduces the inflammation and pain in the knee and helps many individuals return to daily activities with relative ease. Local anesthetic can also be used to numb the knee joint and keep it comfortable. A physical therapist can also recommend a unique physical therapy care plan that works well in conjunction with steroid injections. It is one of the most popular forms of knee pain relief near manhattan.
Hyaluronic acid injections – hyaluronic acid is a natural component of joint fluid. If an individual struggles with osteoarthritis, it means the amount of cartilage in the joint is reduced due to wear and tear over time. Friction can occur in the joint and bony spurs might form. Hyaluronic acid injections are recommended for osteoarthritis because they increase the amount of lubrication in the knee joint. This helps the knee glide more easily and reduces pain and friction in the knee.
Platelet rich plasma injections – platelet rich plasma injections combine your body's own healing abilities with the latest techniques in pain medicine. A top pain doctor can draw up a small sample of your blood and run it through a centrifuge machine to condense the platelets. Once the platelets are condensed into a high concentration, they are injected directly into the knee joint. This encourages the growth of healthy new cells and tissues in the knee joint.
Radiofrequency ablation –  rfa treatment uses radiofrequency energy to deactivate the genicular (sensory) nerves in the knee. A pain doctor can deliver small currents of radiofrequency energy near the genicular nerves so they become deactivated. This stops the genicular nerves from sending pain signals to the brain. It is a safe and low risk treatment option that avoids the use of steroid medicine or narcotics. It is particularly recommended for individuals who have long-term knee pain
These minimally invasive options for knee pain relief near midtown manhattan are just a few of the many treatments available. If you want to find out more about the latest treatment choices for knee pain, be sure to book an appointment with our leading pain doctors. Their first-class medical clinic is located in the heart of the Big Apple, next to the Flatiron neighborhood. It has excellent transport links to Grand Central Station and Penn Station. It is also close to Madison Square Park.
What Are The Causes Of Knee Pain?
So far, we've discussed the importance of booking an appointment with a leading pain doctor. Opting for minimally invasive treatment choices will minimize any risk and maximize your health. Best of all, you can benefit from first-class patient care in state of the art manhattan facilities. Now you might be wondering, 'what are the causes of knee pain?'
The answer is that there are many different conditions and injuries that can lead to knee joint pain. As previously stated, the knee joint is an important joint and is vital for our movement and ability to bear weight. As a result, a knee problem can have a big impact on our quality of life. Some of the most common knee pain issues include: –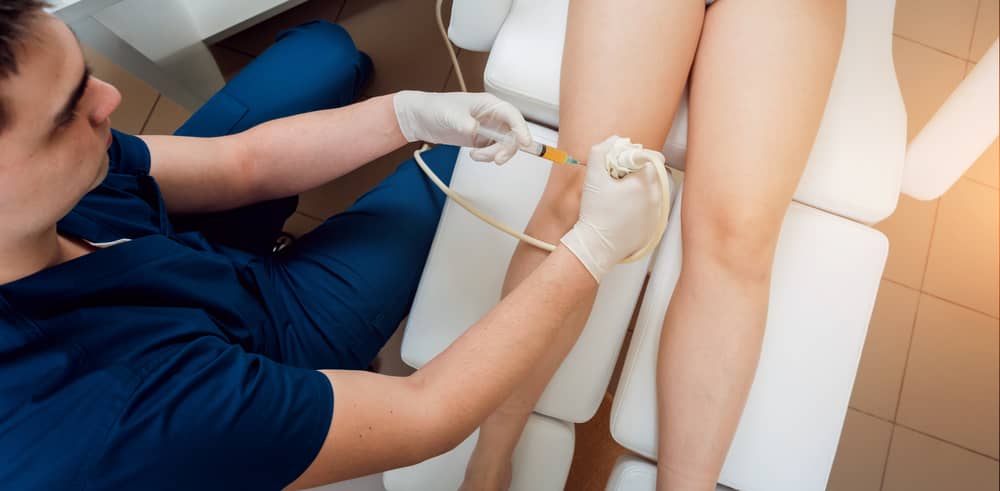 Sick of your Knee Pain?

Book an Appointment!
We offer free insurance verification! Fill out the form and expect a call from one of our agents:
ACL injury – the anterior cruciate ligament is a large ligament. It connects the shin bone to the thigh bone and helps to stabilize the knee. An ACL injury is a common sports medicine injury. The anterior cruciate ligament can be prone to tearing or spraining as a result of suddenly stopping or changing direction.
Baker's cyst – this describes a cyst that can form at the back of the knee. It is a fluid-filled swelling that can lead to feelings of tightness. It is usually the result of an underlying issue such as osteoarthritis or meniscus tears.
Bursitis – the bursa (small, fluid-filled sacs) surrounding the knee joint can become painful and inflamed.
Knee arthritis – rheumatoid arthritis (an autoimmune condition) and osteoarthritis (mechanical wear and tear over time) can lead to inflamed, painful and swollen knee joints.
Meniscus tear – the menisci are 2 'C' shaped pieces of rubbery cartilage that act as a shock absorber between the shin bone and the thigh bone. This cartilage can be prone to a partial or full tear. It commonly occurs during sporting activities when an individual twists while bearing full weight on the knee joint.
What Are The Symptoms Of A Knee Problem?
Now that we've looked at a few of the most common causes of knee pain, let's look at some signs and symptoms of knee issues. It's important you seek medical attention from an expert pain doctor so they can diagnose and treat your knee issue using the latest advancements in pain medicine.
It's important you look out for: –
Pain at the front, back and/ or side of the knee
An inability to straighten or bend the knee joint
Weakness in the knee
Warmth and redness in the knee
Grinding, popping or crunching noises
This modern and friendly manhattan clinic understands why you might be worried about your knee pain. That's why they are passionate about spending time with each patient. Fully understanding the root cause of your knee pain is important as it helps you receive the best possible care for your pain. Best of all, these minimally invasive treatment plans are customized to your individual health status and requirements. You won't have to worry about any risky side effects or painful procedures.
How Is Knee Pain Diagnosed?
Now that we've discussed the importance of exploring the latest treatment options for knee pain, you might be wondering how a pain doctor diagnoses your knee pain.
First, your pain doctor will physically examine your knee joint. This allows them to check for any visible signs of damage. Your doctor may also take a verbal medical history to gain an overall picture of your health.
After these initial assessments, your doctor may order imaging scans (like X-Rays or ultrasounds) so they can check the structure and health of the joint.  Blood tests might also be ordered to rule out any underlying health conditions.
Once all of the appropriate information has been collected, your pain doctor will provide you with a diagnosis and treatment plan. This treatment plan involves a recommendation for one of the minimally invasive options previously discussed. They may also prescribe a top physical therapist to work with during your recovery.
Just because your knee is painful, doesn't mean your treatment has to be! All of our pain doctors are passionate about using low-risk and pain-free treatments for knee pain. You won't have to worry about any risks associated with knee surgeries or narcotics.

Find Your Nearest Knee Pain Treatment Center
Our Manhattan NY knee pain clinic is conveniently located on 290 Madison Avenue Suite 203

How Much Does Treatment Cost?
When you visit our state of the art Manhattan pain clinic, you will be welcomed into a modern and friendly medical center. Our front of house team will collect your insurance information and explain your coverage and benefits. They will work directly with your insurance provider so that your treatment is prompt and as smooth as possible. You also won't have to worry about any hidden bills or costs – before your treatment begins, you will be fully aware of how much you owe (if applicable).
In the meantime, please don't hesitate to call us if you are unsure of your insurance cover. Our experienced and friendly team will be happy to help you. Please call us on (855) 480-6997.
Are There Home Remedies For Knee Pain?
In addition to seeking medical advice, there are some excellent home remedies that provide knee pain relief. These tips can help reduce inflammation and pain in the knee joint. However, these home remedies should not replace medical advice given by a board certified pain doctor. If you want to maximize your recovery time, be sure to discuss home remedies with your physician.
Below are four key points that can help reduce inflammation and pain in the knee: –
Resting the knee when not in use.
Icing the knee joint with an ice pack for 20 – 30 minutes. This can be completed up to 3 times a day. Be sure to wrap a towel around your ice pack to avoid skin burns!
Compressing the knee joint with a compression sleeve or knee brace. This can provide the knee joint with good support and stability.
Elevating the knee joint on pillows and above heart level (if possible).
These solutions are short-term tips that can help you with your knee pain. However, be sure to book an appointment with a leading pain doctor so you can benefit from the safest and healthiest knee pain relief near midtown manhattan.
FEATURED POSTS BY PAIN DOCTORS
What is the Treatment for Sacroiliac Joint Pain?If you're experiencing sacroiliac joint pain, you may be wondering about the treatment options available to alleviate your discomfort. In this comprehensive article, we will explore the various treatment modalities for...
read more
Meet Our Team of Knee Pain Specialists
KNOW OUR TEAM OF HARVARD TRAINED KNEE SPECIALISTS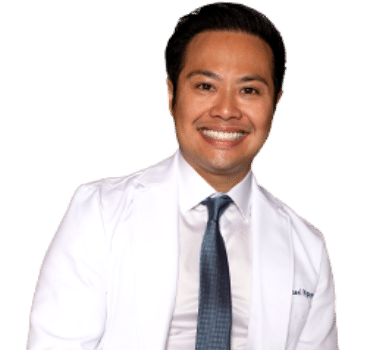 Knee Pain Doctor in New York
Dr. Michael is available for Knee Pain treatment consultations in Manhattan, New York.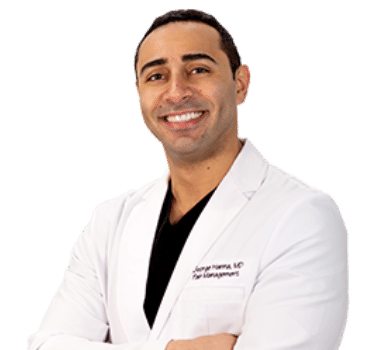 Knee Pain Doctor in New Jersey
Dr. Hanna is available for Knee Pain treatment consultations in Manhattan, New York.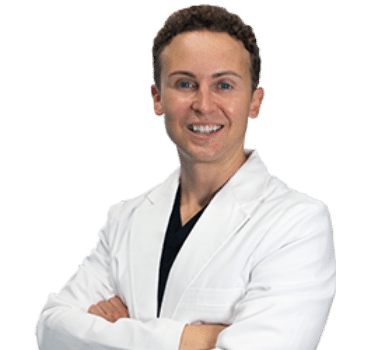 Knee Pain Doctor in New York
Dr. Volney is available for Knee Pain treatment consultations in Manhattan, New York.
Keeping you safe during COVID-19
Learn about our health & safety protocol.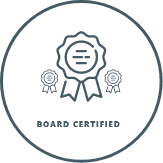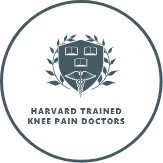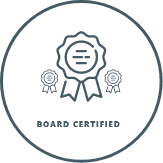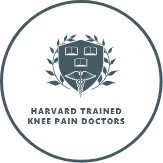 Call us
Speak instantly with one of our team members; they will answer any questions you may have regarding insurance coverage, booking an appointment and our knee pain center in New York and New Jersey.

Visit our Book Appointment page and instantly request an appointment at our Manhattan knee pain clinic. We offer Free Insurance Verification before your appointment.