Find a Knee Pain Clinic Near Me in Manhattan to Reduce Inflammation
Taking the stairs to your office is one of the things that makes you feel good about your heart health. Instead of relying on the elevator, you'll hoof it up several flights to get your pulse moving and your brain active before you spend a long day sitting at your desk. Recently, your knee pain is causing you to take the stairs a little more slowly until you finally admit defeat and take the elevator for a few days in a row. You've never had pain and swelling in your knee like this before, and are afraid that something serious is affecting your knee joint. Your first goal once you reach your office is finding a knee pain clinic near me in Manhattan that treats knee pain without using invasive surgery or knee replacement.
At Pain Treatment Specialists, their Midtown Manhattan pain clinic houses state-of-the-art knee pain treatments that reduce inflammation, treat a knee injury, and also provide long-lasting knee pain relief. Their treatment plans utilize minimally invasive knee pain treatments such as platelet-rich plasma injections, radiofrequency ablations, nerve blocks, and steroid injections. Their highly-rated pain doctors have glowing reviews online, with many patients mentioning how easy it was to schedule an appointment and speak about their knee pain issues. You're ready to get back to your stair climbing routine and ready to kick knee pain back to the elevator, so you book an appointment at their Madison Avenue pain clinic.
What is an Appointment Like at a Knee Pain Clinic Near Me in Manhattan?
You've never visited a pain doctor before, and this knee pain is the first long-term type of pain you've encountered. When you schedule an appointment at a knee pain clinic in Manhattan, you'll be paired with a personal concierge who helps verify your insurance, schedule your appointments, and answer any questions about your consultation. Your concierge thoroughly explains what to expect when you visit Pain Treatment Specialists.
First, you'll arrive at our pain clinic on Madison Avenue, which is conveniently located near Bryant Park. You'll be greeted by our friendly front-end staff who checks you in and then escorts you to our private consultation area. This is where you'll meet with one of our nationally recognized pain doctors. Dr. Jeffrey Deygoo, Dr. Shane Volney, and Dr. George Hanna are all experts in the field of interventional pain medicine. Each of our clinic's pain doctors is carefully vetted to ensure not only the highest level of education and training, but also a documented background of excellent patient care. During the first portion of your consultation, you'll spend time describing your knee pain and explaining how it affects your physical activity. This is why so many of our pain doctors' reviews mention their attention to detail and willingness to explain every facet of your diagnosis and treatment plan.
After a gentle physical examination, your knee pain doctor explains your treatment plan and knee pain diagnosis. Whether you're suffering from a knee injury or meniscus tear, your treatment plan only includes minimally invasive methods for combating knee pain.
Don't spend another day setting for the office elevator when you know that several flights of stairs are easily within your reach. Find relief from your knee pain at Pain Treatment Specialists and begin to strengthen the muscles around your knee joint and reduce inflammation.
Should I Reduce My Physical Activity to Reduce Inflammation?
Some types of physical activity actually help keep your knee moving and prevent stiffness and soreness. For example, swimming, yoga, and walking all keep your knee moving with low impact movements. Keeping your knee joint moving with these motions helps keep stiffness and soreness at bay, and is also good for your heart health.
When your knee pain is active, it's best to avoid high-impact activities like climbing stairs, running, or hiking. These activities put a lot of stress and strain on your knee joint, which increases pain and swelling.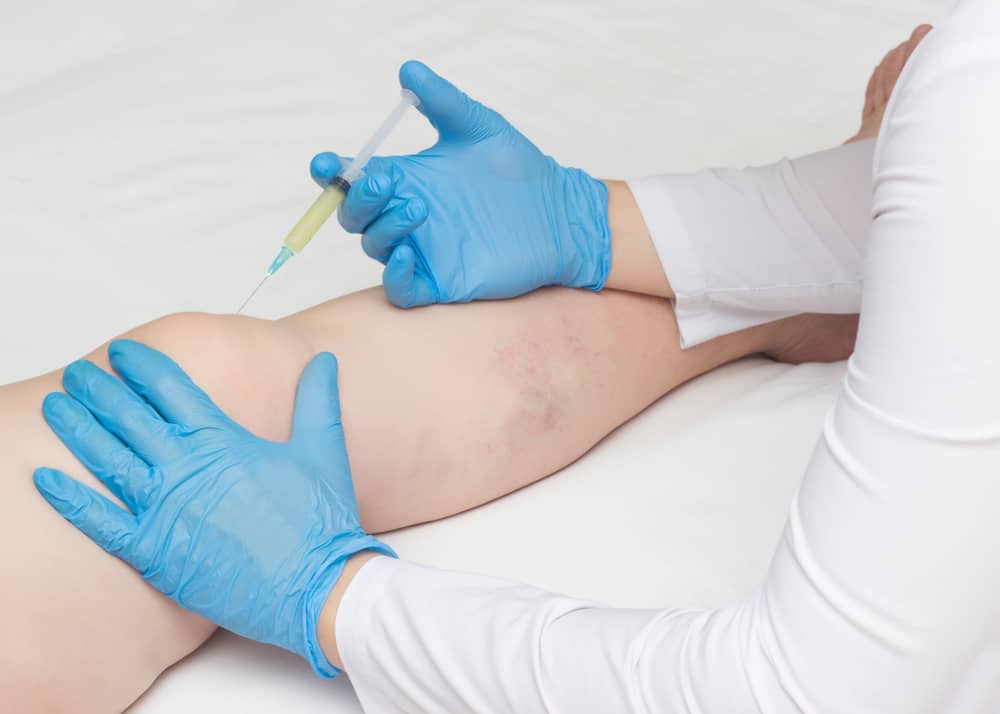 Sick of your Knee Pain?

Book an Appointment!
We offer free insurance verification! Fill out the form and expect a call from one of our agents:
In order to combat knee pain and swelling, you can follow the RICE method. This stands for "rest, ice, compress, and elevate." Rest your knee from high-impact activities as mentioned above and ice your knee in 20-minute intervals. Compress your knee with a brace or bandage throughout the day to provide stability and support and elevate your knee with a chair to reduce swelling. You can also use over-the-counter pain medicines to relieve pain and swelling. Keeping your knee fluid with gentle motions, in addition to at-home treatments, helps reduce stiffness and swelling.
Pain Treatment Specialists is the best knee pain clinic in Manhattan for treating chronic knee pain. Schedule an appointment and find long-lasting knee pain relief with minimally invasive treatments.

Find Your Nearest Knee Pain Treatment Center
Our Manhattan NY knee pain clinic is conveniently located on 290 Madison Avenue Suite 203

What Types of Treatment Plans Work Best for a Knee Injury?
Steroid injections reduce inflammation with a targeted injection of medicine. Corticosteroids provide long-lasting pain and swelling relief that is much more powerful than over-the-counter medicines. Your knee pain doctor in NYC determines the exact location for injection and then administers the injection. Your downtime is minimal, and you'll be able to resume physical activity shortly after your injection.
Nerve blocks are the next level of pain relief offered at our pain clinic in Manhattan. Your pain specialist locates your knee's genicular nerves, which transmit pain signals to your brain. Using a local anesthetic, the pain signals are blocked providing powerful pain relief.
Pain Treatment Specialists is located on Madison Avenue near Grand Central Station, and easily accessible from northern NJ, NYC, and Long Island. Meet with one of our pain specialists and see how easy it is to get back to your morning staircase routine without pain and swelling.
FEATURED POSTS BY PAIN DOCTORS
What is the Treatment for Sacroiliac Joint Pain?If you're experiencing sacroiliac joint pain, you may be wondering about the treatment options available to alleviate your discomfort. In this comprehensive article, we will explore the various treatment modalities for...
read more
Meet Our Team of Knee Pain Specialists
KNOW OUR TEAM OF HARVARD TRAINED KNEE SPECIALISTS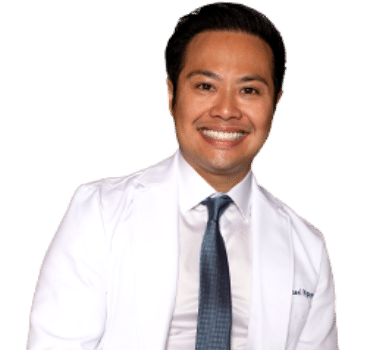 Knee Pain Doctor in New York
Dr. Michael is available for Knee Pain treatment consultations in Manhattan, New York.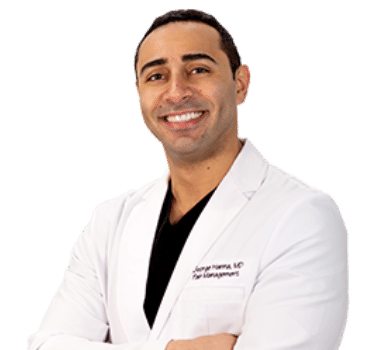 Knee Pain Doctor in New Jersey
Dr. Hanna is available for Knee Pain treatment consultations in Manhattan, New York.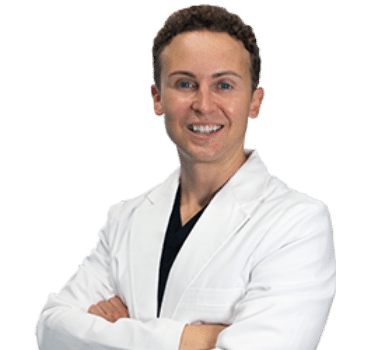 Knee Pain Doctor in New York
Dr. Volney is available for Knee Pain treatment consultations in Manhattan, New York.
Keeping you safe during COVID-19
Learn about our health & safety protocol.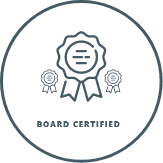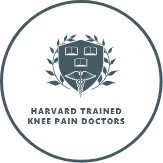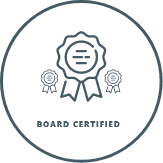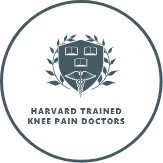 Call us
Speak instantly with one of our team members; they will answer any questions you may have regarding insurance coverage, booking an appointment and our knee pain center in New York and New Jersey.

Visit our Book Appointment page and instantly request an appointment at our Manhattan knee pain clinic. We offer Free Insurance Verification before your appointment.